Click Here for Event News and Press Clippings!
What's Happening in the BUG World?
Thanks a bunch all of you and everyone who came out to see the
BUGS this Summer!
We regularly update our bugmaneducation pages on Facebook - and it is easier to put news and photos and videos there, too!
Check it out!
~~~~~~~~~
~~ Send us your event pictures! ~~
We'll post em up on our events pages!
(Click here to send as an email attachment)
~~~~~~~~~
Here's a COOL video of some Moth Larvae -
yeah, they're caterpillars!
Click on the "play" arrow to start!
HI! Welcome to BUGS.ORG!
from P.R. Mantis and the BUG People!
Don't miss the BUGS this school year!
CALL TO SCHEDULE A VISIT
FROM THE BUGS!
614-450-0BUG (450-0284)
NO BUS - NO FUSS!
Now Join BUGMAN Educational Entoprises & P.R. Mantis on FaceBook!
SPECIALIZED
BUG- CURRICULUMS!

- SPIDERS!
- Nothing scary here - just the facts, Ma'am
- GREEN BUG Lessons*
- Learn from real energy efficiency experts!
- Inquiring Into the World with BUGS!*
- How to question like a Scientist
- Seasonal Cycles of Ohio BUGS
- 2nd Grade standard
- Sacred BUGS of Ancient Egypt
- Or focused on other Historical periods or cultures

* aligned with STEM curriculums
Keep up with all the latest BUG stuff on our Facebook page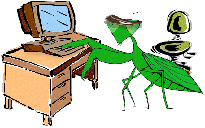 www.facebook.com/bugmaneducation
Check out all the COOL BUG Videos at our Youtube page
www.youtube.com/prmantis/
Check out Our BIG BUG DAY at Your School flyer
it's our best school package ever!
BUGMAN Education is an educational outreach company that provides enrichment experiences for everyone who has ever thought about a BUG! Our breadth of knowledge and experience make our lessons and insights unique in the world of Natural History education.

We do not "play" with our BUGS. We are professional educators and scientists who teach through respectful interactions - with our audience and our Arthropod assistants. People of all ages learn cool stuff from our BUGS! Look how much fun they're having!

If you're in a school, having a birthday or holiday party, like nature and love to learn we're looking forward to showin' you the BUGS!
HAVE YOU ALREADY SEEN THE BUGS?
Tell us about it here! (feedback@bugs.org)
or send us your photos on Facebook!